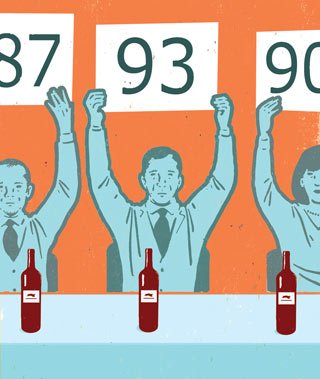 The Wine Curmudgeon's opinions of wine scores are well known: Get a rope. So what would happen when I had to judge a wine competition that required judges to use scores?
The competition, the Critics Challenge in San Diego, was its usual enjoyable self, featuring wine I usually don't get to drink as well as some top quality cheap wine. The scores? Meh. More, after the jump (plus some of the best wine I tasted):
---
Caveats first: The competition pays judges a $500 honorarium and reimburses expenses, and the weather in San Diego is always so much better than it is in Dallas that I'd do it just for the 70-degree temperatures.
But are those good enough reasons to give scores, considering how I feel about them? Probably not. I agreed to judge for two reasons: First, because if you're going to criticize something, you should do it at least once, and second, because I have tremendous respect for competition impresario Robert Whitley. If Robert wants to do scores, then I'm willing to try it.

Having said that, the scoring process was underwhelming. In years past, we gave wines a silver, gold, or platinum medal; this year, we added scores to those awards. I'm still trying to figure out the difference between a silver medal wine with 87 points and one with 89 points, even though my judging partner, Linda Murphy, did her best to explain it to me. A silver is a silver is a silver, and I don't understand why two points makes a difference. Or how Linda and I could give the same wine the same medal, but different points. How could one of us like the wine 2.2 percent more than the other (the difference between an 87 silver and an 89 silver)?
Still, there were some terrific wines entered:
? The 2013 Giesen Riesling from New Zealand ($15) was named best in class, an excellent example of the tremendous value available in New Zealand riesling.

? Linda and I agreed that the Yorkville Cellars 2012 Carmenere ($38) was platinum worthy, and it earned best in class honors. Carmenere can be off-putting, unripe and tannic, but this was an intriguing, rich, and earthy effort, with dark fruit and complex finish.
? I've been lucky enough to taste sparkling wine from Dr. Konstantin Frank in upstate New York three times since last fall, and each time it has been sensational. The 2007 Chateau Frank Brut ($25) won best of class, and the non-vintage rose ($21) grabbed a silver.
? The 2012 Nottage Hill Chardonnay from Australia's Hardys ($13) won a platinum, which wasn't surprising. Aussie chardonnay can often be $10 Hall of Fame quality; the catch, usually, is that the wines vary greatly from vintage to vintage, and what was tasty one year isn't the next.
? A non-vintage red blend, called Kitchen Sink ($10), won a silver. It's fruity, but well-made, and I've always enjoyed the Kitchen Sink white blend.